Up-Down: the Des Moines arcade bar.
We feature more than 40 arcade games from the '80s and '90s, pinball machines, three classic skee-ball alleys, Nintendo and Sega console gaming, and life-size jenga and connect four.
All games cost just 25 cents. Our drink menu includes an extensive craft beer selection with 20 beers on tap and even more bottles and cans, as well as '80s and '90s inspired cocktails.
Hours
Monday-Friday 5:00 p.m. – 2:00 a.m.
Saturday 2:00 p.m. – 2:00 a.m.
Sunday 2:00 p.m. – 2:00 a.m.
(Must be 21+ to enter)
Contact
Phone: 515-243-4322
Have a question? Shoot us an email
Address
500 East Locust Street
Des Moines, Iowa 50309
Events
Do you have skills? Stay tuned for more information on Up-Down tournaments and leagues!
Check out all upcoming events here!
Weekly Specials
Birthday? Get $10 in free tokens on your birthday.

Feeling generous? We have gift cards! Up-Down merch is also now available, including t-shirts, hoodies, and fanny packs.

Now introducing: CANDY INFUSIONS.  Your favorite liquor infused with your favorite candies!
Monday – $3 Domestic tall boys, $1 off all tap beer, free token with every drink purchase
Tuesday – Local Beer Night: $1 off all Iowa Beer plus three free tokens with purchase
Wednesday – 2 for 1 tokens all night, $3 domestic tall boys
Thursday – $1 off signature drinks and shots, 10 cent tokens
Friday – FREE PLAY FRIDAY – First 100 people get 20 free tokens (excluding monthly Coins for a Cause event), Six-Pack and A Pound: $25 for a six-pack of beer and a pound of tokens until 9pm, $20 Fireball/Candy Shot Skis (5 person), $4 Blanka's Electric Lemonades, $4 Fireball all night
Saturday – 2 for 1 tokens from 2pm to 9pm, $20 Fireball/Candy Shot skis (5 person), $4 Fireball, $4 Candy Infusions
Sunday – Six-Pack and A Pound: $25 for a six-pack of beer and a pound of tokens in an Up-Down fanny pack, $1 off all bombs, 2 for 1 tokens and $3 tall boys all day
Games High Score Competitions Are Coming Soon!
Current Arcade Lineup
Neo Geo (mutli game)
The Maze of the Kings
Track & Field
Fix It Felix Jr.
Sunset Riders
Tetris
Strikers 1945
Killer Instinct
Centipede
Ms. Pac-Man
Arkanoid 2
Pac-Man Battle Royale
Dig Dug
Moonwalker
Donkey Kong Jr.
Altered Beast
Blitz 2000
Teenage Mutant Ninja Turtles
Simpsons
Missile Command
Area 51
Frogger
Galaga
Crazy Taxi
NBA Jam
Viper
House of the Dead
Ivan Stewart's Off Road
Carnevil
Mortal Kombat
X-MEN
Marvel vs Capcom
Spider-man
Mario Bros.
Killer Queen
Burger Time
Silkworm
Rampage
Revolution X
Street Fighter II
Zombie Raid
Games lineup is added to and rotated constantly.  Check back for new games!
Current Pinball Lineup
Terminator 2
Medieval Madness
Batman: The Dark Knight
Guardians of the Galaxy
AC/DC
South Park
Ghostbusters
Teenage Mutant Ninja Turtles
Extras
Classic skee-ball lanes
Game tables including life-size Jenga and Connect Four
Nintendo 64 games (rotating stock) on a giant projector screen
Nintendo, Super Nintendo, Sega console games (rotating stock)
Suggest a game.
We're listening!
What games do you want us to get?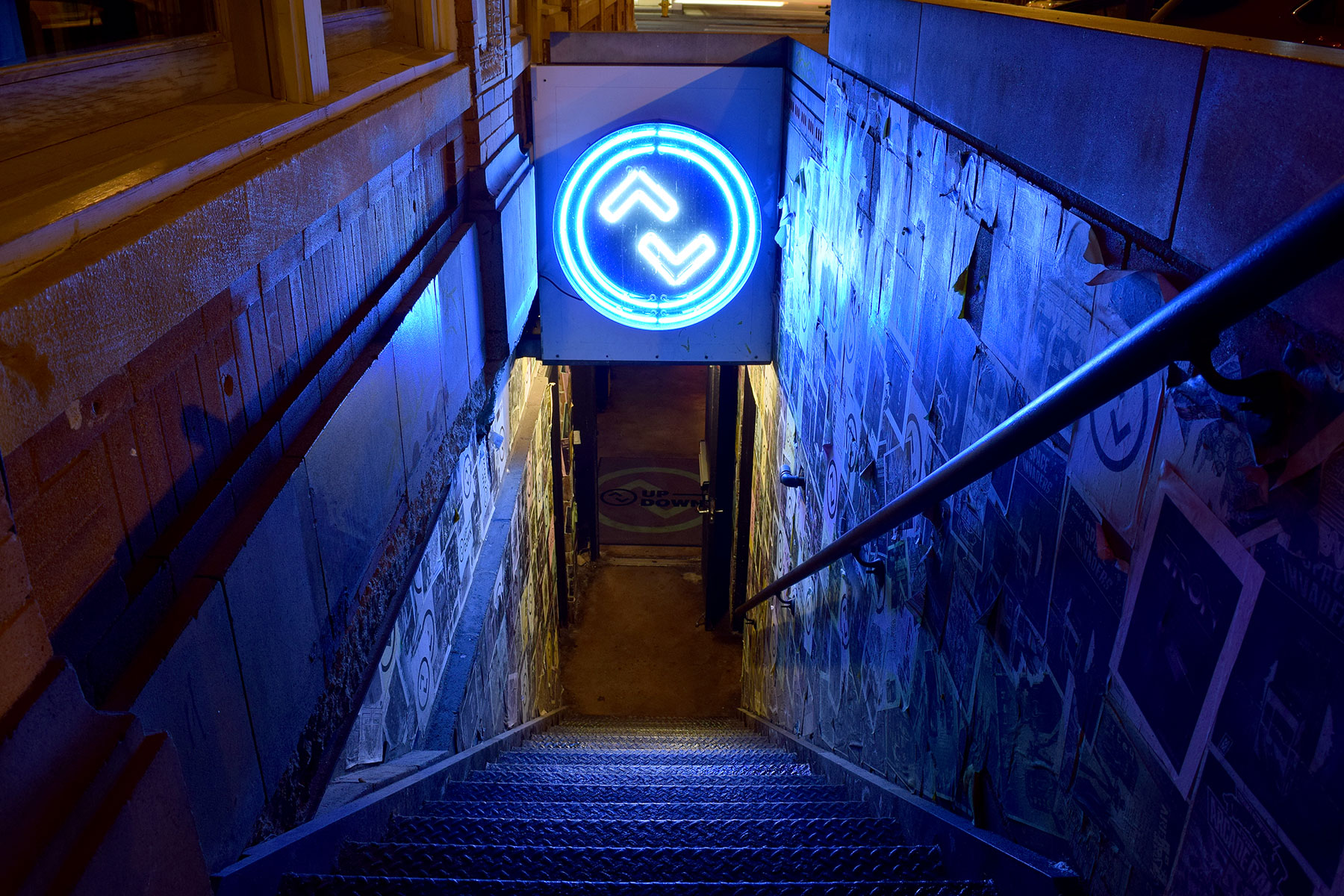 Drinks
Six-Pack and A Pound

$35 for a six-pack of beer and a pound of tokens in an Up-Down fanny pack. Get them for $25 on Sundays!
Shots
Double Dragon Bomb Watermelon Pucker, Dragonberry Bacardi, Red Bull
Finish Him Bac 151, Goldschlager, Jager
Slippery Banana Irish Cream, 99 Bananas
Sonic & Knuckles Blueberry Stoli, Blue Curacao, Lime Juice, Code Red Back
Hulkamaniac Lemonheads Vodka, Grenadine, Sugar Lemon
Pinky & The Brain Watermelon Pucker, Irish Creme, Grenadine
Fire Flower Bomb Fireball, Sutliff Cider
Dr. Wario Absolute Citron, Grape Pucker, Sour
Gizmo Chocolate Vodka, Creme De Cacao, Milk
Cocktails
Up-Down Left Hand Milk Stout and Radler –layered Our namesake, toss it up and drink it down
Princess Peach Punch Peach Schnapps, Malibu, Pineapple, Splash of Cranberry
Earthworm Gin Seagrams Gin, St. Germain, Stiegl Radler, Gummy Worm
White Rush n' Attack Kahlua, Vanilla Vodka, Rum Chata, Milk
Blanka's Electric Lemonade Apple Pucker, Citron, Lemonade
Cherry Lime Crisis Cherry Jolly Rancher Vodka, Lime Juice, Sprite, Lemonade
Mike Tyson's Drunk Out Lemonheads Vodka, Crispin Pear Cider, Splash Code Red
Marge-A-Rita Jose Cuervo, Blue Curacao, Sour, Lime Juice
Kirby's Dream Drink Watermelon Jolly Rancher Vodka, Pineapple, Lemonade
Captain America Grenadine, Lemonade, Blue Raspberry Vodka
Zangief Ingenioz Vodka, Ginger Beer, Lime Juice
Galaga (Old Fashioned) Cedar Ridge Bourbon, Sugar, Cherry Bitters, Topped with soda, Garnished with Cherry and Orange
Cosmo Kramer Lemonheads Vodka, Cointreau, Cranberry Juice, Lime Juice
Suggest a beer.
We're listening!
What beers do you want us to get?